LET'S TALK FINANCIAL INFIDELITY
WHAT IS FINANCIAL INFIDELITY
To break it down, financial infidelity happens when couples with shared finances keep money secrets from each other and create a mountain of lies in the process. Think of it like a rope, if you have no infidelity your rope is uninterrupted, but each lie is a new knot in your rope.
IT LOOKS A LITTLE SOMETHING LIKE THIS..
ASSESS IF YOU HAVE FINANCIAL INFIDELITY
First, start with our Financial Infidelity Scale. It will help you narrow down whether or not you have financial infidelity in your relationship, and if you do, how deep it runs.
Next, don't worry we aren't going to drop this on you and leave it up to you to figure out how to fix the financial infidelity in your relationship. We have paired up with a Marriage and Family Therapist to create a plan for how you and your spouse can work together to start unknotting the rope that is financial infidelity.
Once you have reviewed your results, start working on implementing the feedback from them! Financial Infidelity won't change over night, it will take work, but if you are committed to kicking it out of your marriage, then let's start packing it's bags and working on the applied steps.
Already taken it or want to learn more about each tier and how to start healing? Click one below.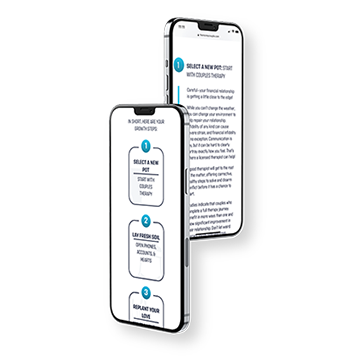 RESULTS ARE QUICK AND EASY TO READ THROUGH
No one is beyond repair, it doesn't matter if you have: hidden credit cards from your spouse, have a secret bank account, or purposefully keep your spouse out of your combined finances. Start right now and change that. You are a team; make sure your finances reflect that!